ABC Productions & Boss Chix ATL Present The NAACP State Conference – Power of Influence Awards October 24, 2020

NAACP State Conference Power of Influence Awards Honors Evander Holyfield, Raheem DeVaughn, Porsha Williams, Carl Thomas, Rico Love, Yandy Smith, Tyrone Hughes, and other activists, entertainers, and community leaders
ATLANTA, GA – October 23rd, 2020 – On Saturday, October 24, 2020, at 6:00 P.M, the NAACP State Conference Awards will recognize nationally acclaimed excellence in athletics, public policy, social activism, entertainment, entrepreneurship, philanthropy, and leadership at Monticello, 2000 Powers Ferry Rd, Marietta, GA 30067. This is a collaborative effort of the Louisiana and Georgia Conferences of the NAACP. Evander Holyfield, Olympic Champion, World Boxing Champion, Boxing Hall of Fame Honoree, and Commentator will receive the Power of Influence Lifetime Achievement Award. Other honorees include Eliza Eugene, Richard "Rico Love" Butler Jr., Bridget Dinvaut, Tyrone Hughes, Carl Thomas, Dee – 1, Rev. Derek King, Nghana Lewis, Cynthia Willard-Lewis, Raheem DeVaughn, Porsha Williams, Yandy Smith, and Isaac Farris: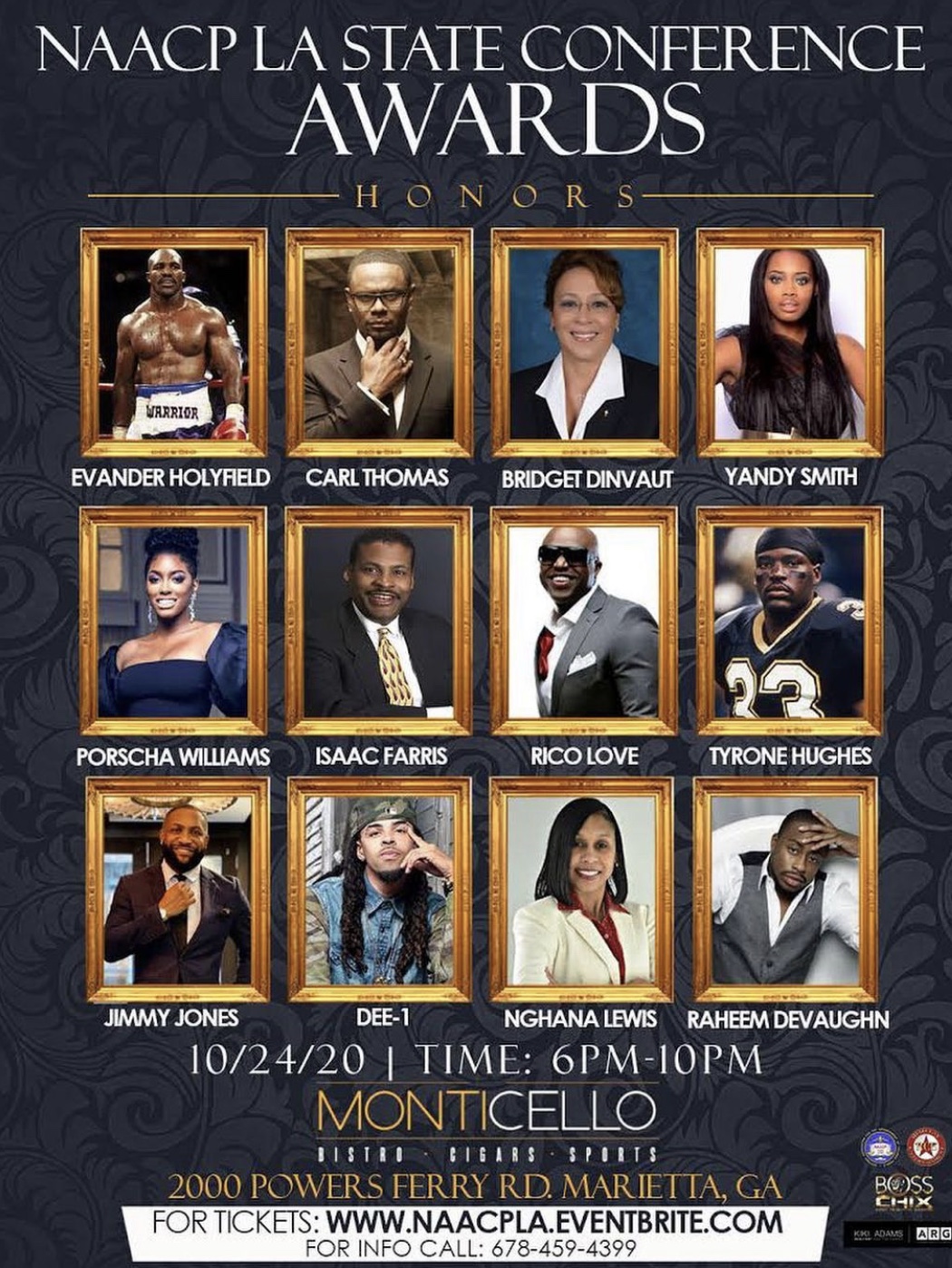 The NAACP Louisiana State Conference Award Honorees are individuals who have demonstrated a commitment of their lives, their voices, and their resources to the mission of the NAACP. Michael McClanahan, President of the NAACP Louisiana State Conference submits, "Our honorees have their hands to the plow. They are engaged in community, armed in knowledge, and marked by service and selflessness." The NAACP's history of excellence in action is lived through their experience and their dedication to the core values; all of which are just as relevant, poignant, and essential to advancement in the 21st century as they were at its inception in 1909.
The evening will be a star-studded affair hosted by Dr. Lexy star of OWN TV's Ready to Love Season One and Chris Cole, Atlanta Social Influencer. Show organizers Byron Clay of ABC Productions and Janet Jackson of Boss Chix ATL have assembled an unforgettable evening of entertainment complete with musical tributes by Case, 112, Tony Terry, and Dave Tolliver. Tickets can be purchased at https://naacpawards.eventbrite.com. Covid-19 Social Distance and Face Covering Protocols will be strictly enforced. For more info about the event or sponsorship opportunities please contact Janet Jackson at bosschixatl@gmail.com or 678-951-4453.
About the NAACP
Founded in 1909 in response to the ongoing violence against Black people around the country, the NAACP (National Association for the Advancement of Colored People) is the largest and most pre-eminent civil rights organization in the nation. We have over 2,200 units and branches across the nation, along with well over 2M activists. Our mission is to secure the political, educational, social, and economic equality of rights of people of color, in order to eliminate race-based discrimination and ensure the health and well-being of all persons.
The NAACP is a c4 organization (contributions are not tax-deductible), and we have a partner c3 organization known as NAACP Empowerment Programs (contributions are fully tax-deductible as allowed by the IRS). If you wish to donate to NAACP LA, please contact info@naacp-la.com or call 504.261.5650.

Media Contact
Company Name: NAACP LA State Conference
Contact Person: Alexcius Branch
Phone: (901) 606-7966
Country: United States
Website: https://www.naacp-la.com