Reusa Reusable Isolation Gowns Available For Purchase Online By U.S. Healthcare Providers And Individual Practitioners

Innovative American-made gowns washable 100 times, made from sustainable, US-manufactured fabrics
PHOENIX, AZ – OCTOBER 26, 2020 – Arizona Fashion Source, manufacturer of washable, reusable isolation gowns sold under the Reusa brand name, announces nationwide availability of their innovative, sustainable isolation gowns. Gowns are available in two AAMI levels and can be purchased in both large and small quantities.
"To ensure all American healthcare workers have access to our isolation gowns we are making them available with no-minimum quantity and purchasable online directly from our website, ReusaPPE.com," said AZ Apparel Foundation founding partner Sherri Barry. This means that Reusa isolation gowns are not only available to institutions, but also to small organizations and individuals needing one or a few PPE gowns.
Barry noted that Reusa Reusable Isolation Gowns are made in the United States with U.S.- sourced material making them Buy American Act and Berry Amendment compliant. They are also suitable for use under the FDA's COVID-19 EUA (Emergency Use Authorization). About Reusa brand PPE gowns:
Gowns can be washed and reused 100 times
Isolation gowns available in AAMI Level 2 and AAMI Level 3 Standard
Washable by both commercial and consumer clothing washers and dryers 
Sustainable and cost-effective 
In addition to being sustainable and a supply chain stabilizer, Reusa Isolation Gowns are also more cost-effective than their disposable, single-use counterparts.
Isolation gowns are most commonly thought of for hospitals and clinics, but they are used by, and available for a wide variety of environments and use cases including:
Hospitals and clinics

Private doctor practices and dental offices

Nursing homes and in-home eldercare 

Schools and colleges

Correction and detention facilities

Veterinarians

Other environments requiring AAMI Level 2 and AAMI Level 3 protection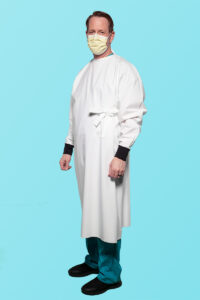 Standard gowns are available for immediate purchase online. For orders of over 100 of any gown specifications, a wide variety of customizations are available. Immediate purchases and inquiries for bulk and custom orders can be made by visiting the Reusa website at https://reusappe.com. 

About Reusa
Reusa is the brand name of Arizona Fashion Source's innovative reusable, sustainable isolation gowns. Reusa isolation gowns were developed to solve the shortcomings of disposable, single-use PPE. Isolation gowns manufactured under the Reusa brand name solve the challenges of disposable PPE by on-shoring manufacturing and offering an environmentally- conscious, cost-effective line of PPE made in America.
About Arizona Fashion Source 
Established in April 2016, AZ Fashion Source is the apparel manufacturer in F.A.B.R.I.C. that uses sustainable and state-of-the-art manufacturing processes to create samples and production runs with NO MINIMUMS. AFS manufactures heavy- and light-weight knits and wovens on industrial sewing equipment and the latest CAD programs. This enables emerging designers/brands to take a more conservative step into manufacturing. AFS also provides the scraps that are created from the cutting process to local designers to remake into new garments through a zero-waste initiative called reFABRICate.
Media Contact
Company Name: Reusa
Contact Person: Sherri Barry
Phone: (855) 713-0773
Country: United States
Website: https://reusappe.com