PDC LLC announces launch of a comprehensive line of Electric Actuators

November 24th, 2020, Pittsburgh, PA – Today, Process Development & Control, LLC ("PDC"), a Pittsburgh based valve and actuator manufacturer, announced the launch of its comprehensive line of Electric Actuators to be marketed under their Magnus Force brand. PDC had earlier successfully introduced a line of Pneumatic quarter-turn actuators under the Magnus Force brand name in 2018.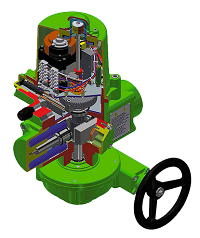 Established in 1970, PDC is a world-renowned supplier of custom damper butterfly valves that have been widely used in the air management, water/wastewater and other industries. Most recently PDC has embarked on a diversification of its product portfolio introducing a check valve product line, Elastotite, that has a unique patented elastomer hinge that improves valve performance, reliability and useful life. As part of this effort, PDC also introduced its pneumatic quarter turn actuator under the Magnus Force brand name as an economical third-party alternative for the valve and actuation industry.
"With the introduction of our Magnus Force electric actuators, we are moving closer to our long-term vision for PDC as a world-renowned supplier of economical valve and actuation products," said Mark Santo, President of PDC. "The electric actuator line includes quarter turn and spring return designs in both watertight and explosion proof options. Our customers have been asking us for a PDC branded electric actuator for use with PDC valves as well as for automating third-party valves and we're pleased to introduce this product."
The Magnus Force Electric Actuator products come with CSA Certifications for Watertight and Class 1 Div. 1 and 2, as necessary. PDC expects to introduce many new products in the valve and actuator market space as it executes on its strategic plan for long-term growth.
About PDC: PDC, established in 1970, is a Pittsburgh, PA USA based manufacturer of Valve and Actuation products. PDC offers custom damper butterfly valves for the air management, water-wastewater, power and other industries. In addition, PDC manufactures a patent-protected, high reliability check valve for use in air and water service. PDC also offers its Magnus Force line of pneumatic, electric and electro-hydraulic actuators for use across various industries and applications.
To learn more please visit us online at https://www.pdcvalve.com

Media Contact
Company Name: Process Development & Control, LLC
Contact Person: Alina Craig
Phone: (724) 695-3440
Country: United States
Website: https://www.pdcvalve.com