NACA Initiates Historic "Roll To The Polls" Voter Mobilization

A FLEET OF 100 VANS IS MOBILIZED FOR 20 DAYS OF MASSIVE VOTER ENGAGEMENT
October 9th, 2020 – Atlanta, GA – On Monday, October 12, 2020 at 11:00 A.M. the Neighborhood Assistance Corporation of America (NACA) with other community partners will initiate a historic voter engagement operation at the Georgia State Capitol (206 Capitol Avenue, Atlanta, GA 30334). 100 fifteen passenger vans will form a huge caravan from the House of Hope Atlanta Church in Decatur, GA and circle the Georgia State Capitol as NACA and community leaders announce the beginning of their "Roll to the Polls" campaign. During the next 20 days of early voting and on election day, this massive fleet of vans will deploy throughout nine counties in the Atlanta Metro Area to ensure that everyone who wants to get to the polls can do so safely, securely and free of charge. This will be the largest voter mobilization effort in history providing more than 100,000 voters access to transportation to the polls.
NACA, in collaboration with the House of Hope Atlanta Church, Dr. Alexcius Branch and more than a dozen other organizations, will conduct this history making Roll to the Polls campaign. The fleet will be deployed from the House of Hope Atlanta to pick-up voters starting at 8:00 a.m. and continuing until the polls close each day. Voters can request rides by going to www.naca.com or calling 888-495-6222. The vans will be driven by vetted drivers and will be fully stocked with PPE including masks, gloves, hand sanitizer and disinfectant spray to ensure passengers remain safe from the Coronavirus. Proper social distancing measures will also be in effect for all passengers, drivers and staff.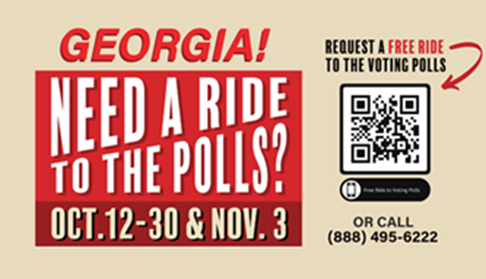 Bruce Marks, founder and CEO of NACA, the country's largest non-profit homeownership organization, explained that this operation is crucial given the significance of this election and the roadblocks to voting often faced by minorities. Marks says "NACA has over 360,000 members in Georgia and we must do everything in our power to ensure that their voices and others in their neighborhoods are heard". Marks continues, "NACA has always taken on the biggest issues from predatory lending to providing the Best Mortgage in America. Now, we are mobilizing our staff, Members and community partners to again do the seemingly impossible with this massive mobilization to ensure that every eligible voter can have their vote counted."
NACA and the House of Hope Atlanta have been joined by a diverse coalition of organizations and companies to make this unprecedented event a reality. They include: the DeKalb County NAACP, Power of Praying Women Collective, Jackson Protection Agency, DAP Signs, Trusted Care, D&A Transportation Services, Community Social Justice Atlanta, The Victory Group, Mentoring Exceptional Leaders, T.G.I. Friday's, Fat Sisters, Bojangles, Ben & Jerry's and others. Even more organizations continue to join this coalition to make it the largest coordinated effort ever to ensure voters can cast their ballots in person.
The Roll to the Polls campaign will ensure that thousands of Atlanta area voters who otherwise might not have the opportunity can exercise their right to vote and have their voices heard!
About NACA (www.naca.com)
Started in 1988, NACA is the largest HUD-Certified nonprofit, community advocacy, and homeownership organization in the United States. NACA has been the forefront in fighting predatory lending and has been the most effective organization in providing affordable solutions to over 250,000 homeowners. NACA provides the best mortgage in the country through its 48 offices nationwide. NACA's founder and CEO Bruce Marks was named Bostonian of the Year for 2007 because of his work in getting the major lenders and servicers to modify home loans. He has also testified before Congress on numerous occasions including September 12, 2000—being one of the few to sound the alarm of the pending mortgage crisis. For more information, please visit www.naca.com.

Media Contact
Company Name: Neighborhood Assistance Corporation of America (NACA)
Contact Person: Tim Trumble
Phone: (617) 947-2632
Country: United States
Website: https://www.naca.com