Rising Podcast: "Musings with Matt and Friends" Hosted By Matt Bean

Special education edicator Matt Bean helps make sense of a fast-changing world.
December 4th, 2020 – "Musings with Matt and Friends," a podcast covering deep life dynamics, uses conversation, expert interviews, and statistics to uncover the truth in today's agenda-driven media.
Listeners interested in social sciences will find this podcast informing with a casual style that can be easily absorbed.
The podcast is a stimulating, often cerebral show run by special educator and football coach Matt Bean. His engaging content and data-driven view of the world is what makes his podcast worth listening to. Every week Matt brings a new guest and they discuss important topics to reach the essence of the issue.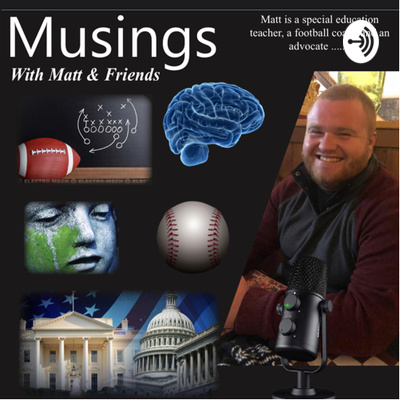 The show is available on many different platforms, including Anchor, Google Podcasts, Spotify, ApplePodcasts, RadioPublic, and many others. If you're a fan of famous podcasts such as "This American Life" or the "Joe Rogan Experience", you'll treasure listening to "Musings with Matt and Friends."
On the podcast, the hosts talk about a wide range of topics ranging from the political situation in America to the importance of football, and societal issues such as income inequality. His wide range of topics caters to all types of listeners.
Matt is currently on his 24th show, with each episode lasting from 10 minutes to an hour-long. Many of the concepts he talks about to date cover topics that are incendiary and also informative.
According to IAB/PwC growth trends, podcast revenue will pass $1 Billion in 2021. With a lot of room for growth in the podcast space, "Musings with Matt and Friends" is poised to captivate audiences interested in the issues of society.
Matt can be contacted via his social media channels.
Media Contact
Company Name: Podcast Pump
Contact Person: Matt Bean
Phone: 603-477-6111
Country: United States
Website: https://anchor.fm/matt-bean