'Tis the season for Blue Goose Cantina's Tamales and To-Go Party Packs

Tex-Mex food lovers fa-la-la-love the homemade goodness for both at-home and company meals
December 12th, 2022 – Blue Goose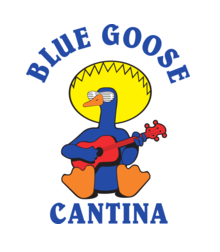 Cantina will be offering its annual homemade Box O' Tamales for a limited time during the holiday season. Coupled with the other to-go party packs available at the restaurant, it's a great way to take out the stress of at-home meals for the family or company holiday entertaining.
The history of tamales during the Christmas season dates to 8000 B.C. In Mesoamerica, corn was viewed as the precious substance of life. It was believed that the gods made humans from corn. Wrapped tamales were part of ritual offerings.
Blue Goose Cantina carries on the tradition with tamale options that includes pork or chicken, jalapeño, and cheese options. The famous Box O' Tamales also includes three of the restaurant's signature handcrafted sauces – Salsa Verde, chili con carne, and queso. The tamale boxes are $30 each. Since Blue Goose Cantina's tamales are made fresh daily, orders should be made a minimum of one day in advance. Once they're out for the day, they're out! Pre-ordering is highly recommended.
In addition to the quintessential tamale, Blue Goose Cantina also offers an appetizer party pack, as well as fajita, enchilada, and taco to-go party packs that you'll fa-la-la-love. Mmm- mmm! Washed down with Blue Goose's famous margaritas, available to go in gallon jugs, there's nothing like it.
To pre-order a Holiday Box O' Tamales, the other to-go packs, and margaritas, visit BlueGooseCantina.com and click on 'Order Now,' where you can select the restaurant closest to you and the date needed. Gift cards are also available online – the perfect stocking stuffer this holiday season.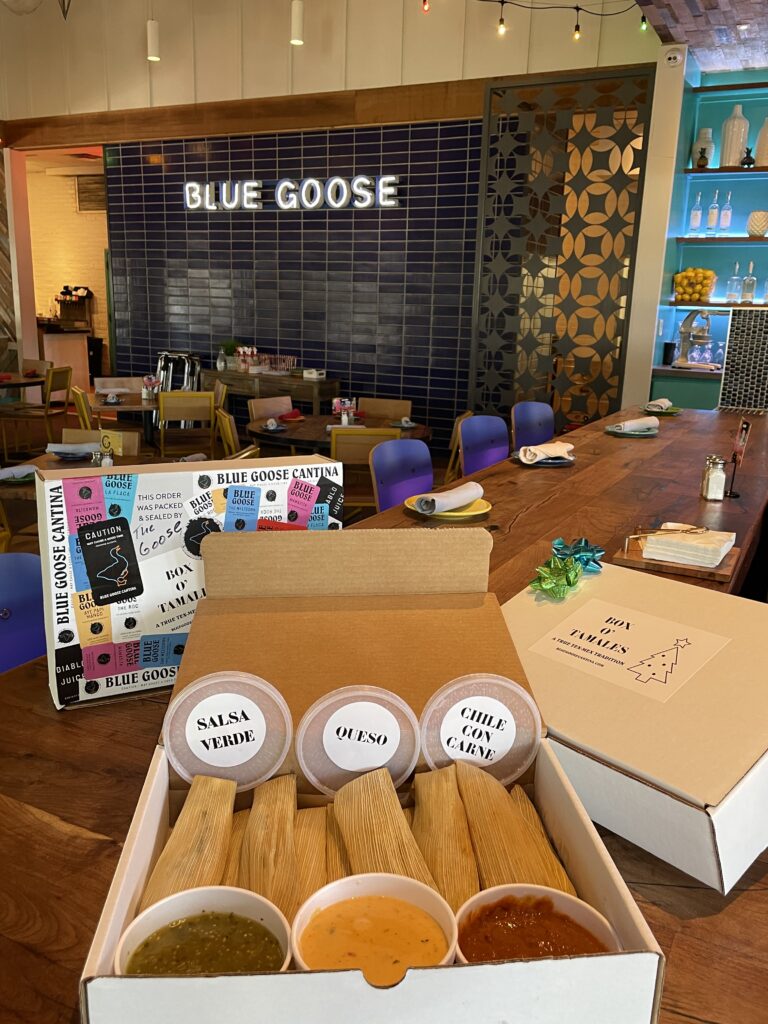 Established in 1984, Blue Goose Cantina brings together fantastic made-from-scratch Mexican food, legendary cocktails, top-notch service, a fun atmosphere, and a kick-ass attitude. A division of Peterson Management Group, a family-owned and operated restaurant management company, Blue Goose currently has seven North Texas locations that includes Dallas, Grapevine & Fort Worth with an additional location opening in Spring 2023.
For more information, including menu and locations, visit BlueGooseCantina.com and follow us on Facebook and Instagram for the latest news and promotions.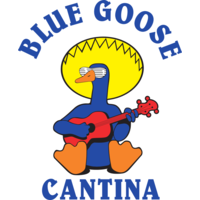 ABOUT PETERSON MANAGEMENT GROUP
Peterson Management Group is a family-owned and operated restaurant management company with 12 restaurants located across North Texas. Founded by Bob Peterson and Scott Holy Holyfield, two guys with larger-than-life personalities, it all started in 1983 with eclectic seafood shack restaurants, Aw Shucks and Big Shucks Oyster Bar. They are the best places in North Texas to get raw oysters, shrimp, cat fish, crab legs, po'boy boy sandwiches, a nice cold beer, and some tasty craw fish when in season. In addition to Aw Shucks and Big Shucks, Peterson Management Group opened Blue Goose Cantina in 1984, where fantastic made-from-scratch Mexican food, legendary drinks, top-notch service, a fun atmosphere and a kick-ass attitude come together. The restaurant chain has repeatedly been voted the best in North Texas for its winning combination of food, fun, and signature margaritas. Today, Nick Peterson, son of Bob, leads the family business, serving as its CEO.
Media Contact
Company Name: Blue Goose Cantina
Contact Person: Kathy Beazley
Country: United States
Website: https://www.bluegoosecantina.com/