Bondex Appoints William Usdin as a new strategic advisor

November 24th, 2021, Miami, FL – Bondex announced today that William Usdin is joining the company as a strategic advisor and investor.
"We are incredibly excited to have William as a Bondex advisor and investor. His senior executive level experiences at Google and Woven Science will provide valuable contributions to Bondex growth strategy, said Ignacio Palomera, Chief Operating Office at Bondex.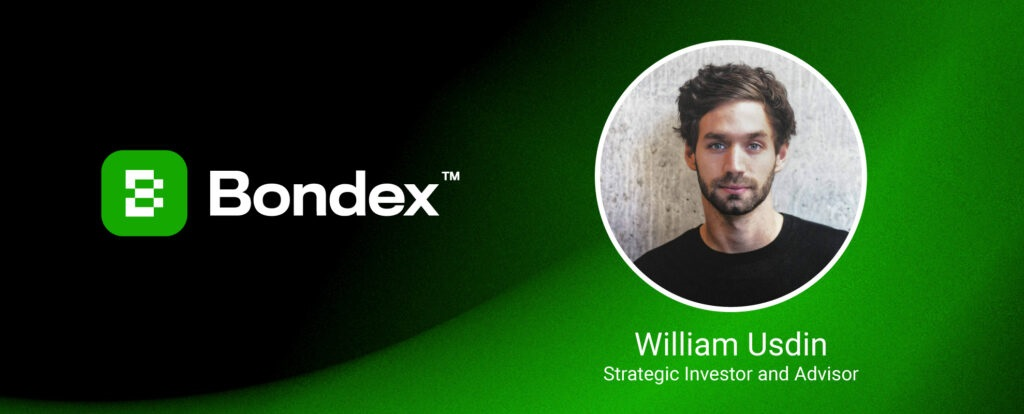 About Bondex
Bondex is the next-generation, Web 3.0 fintech-enabled talent ecosystem for the future of work. Our priority is finding the right professionals, helping them make connections, matching them with appropriate work opportunities, and building the next-generation professional network. Bondex's progressively decentralized P2P network enables a new business model by sharing profits amongst the global talent pool and hiring companies, thereby better-aligning incentives for long-term growth and value creation.
About William Usdin
William Usdin has a wide range of senior management experiences at a startup and a large company and venture capital investments. Presently he is the COO at Woven Science, a permanent capital vehicle investing in emerging and early-stage wellness, therapeutic and pharmaceutical companies in Europe and Canada. Previously William served as Google's head of Strategy and Operations in Europe, the Middle East, and Africa. His broad experiences can provide invaluable inputs into Bondex strategy. William is a Fulbright Scholar, Delegate to the World Economic Forum, and holds degrees in Politics, Philosophy and Economics, and Business Administration from Oxford and London School of Economics.
For more information, please visit the Bondex website and follow us on social media.
Media Contact
Company Name: Bondex
Contact Person: Roomy Khan
Phone: 805-724-7938
Email: rkhan@bondcapital.Io
Country: United States
Website: https://www.bondex.app