Bondex Appoints Alexandre De Damas as new strategic advisor

September 29th, 2021, Miami, FL – Bondex announced today that Alexandre De Damas, founder & CEO of Damacorp Global, is joining the company as a strategic advisor and investor. His extensive experience and network in the blockchain world will provide invaluable insights and inputs into Bondex's strategy. In addition to Damacorp, Alexandre is a partner in a quantitative crypto hedge fund Quantum FinTech group and was an early investor in Fantom ($FTM) – the fastest blockchain with the largest real-world adoption.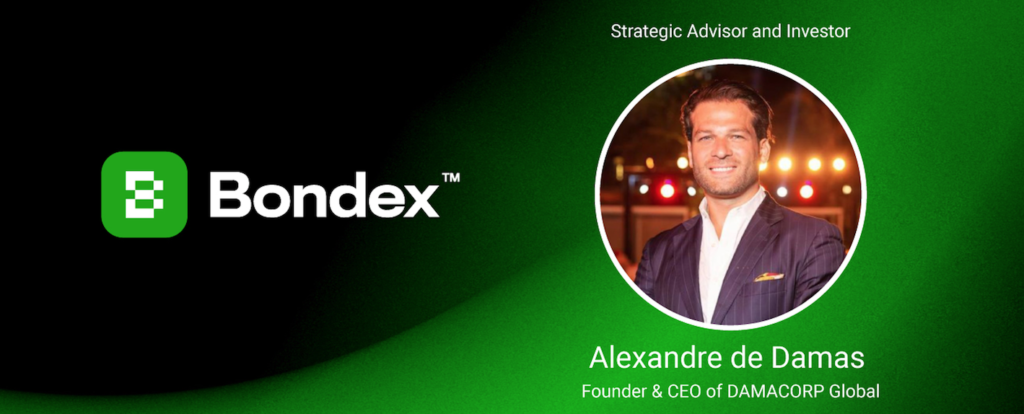 "We are extremely excited to have Alexandre de Damas as a Bondex advisor and investor. We feel his experience and influence within the crypto space will add tremendous value to the Bondex team," said Tamim Khan, CEO of Bondex.
About Bondex
Bondex is the next-generation, Web 3.0 fintech-enabled talent ecosystem for the future of work. Our priority is finding the right professionals, helping them make connections, matching them with appropriate work opportunities, and building the next-generation professional network. Bondex's progressively decentralized P2P network enables a new business model by sharing profits amongst the global talent pool and hiring companies, thereby better-aligning incentives for long-term growth and value creation.
About Alexandre de Damas
Alexandre de Damas, an entrepreneur, pioneered the artificial intelligence (AI) revolution in the citizenship and residency planning industry (CRBI) and introduced AI in the user's entire journey. The graduate of HEC Paris began his investing career in the hedge funds division of Banque Privée Edmond de Rothschild before becoming a commodities trader in the shipping derivatives and oil desk of Louis Dreyfus Commodities, Geneva. He recently became a quantitative crypto hedge fund partner and was an early investor in Fantom, the fastest blockchain with the most extensive real-world adoption. Alexandre de Damas and his partners in Quantum FinTech Group were also pioneers of the F1/Crypto series of deals.
For more information, please visit the Bondex website and follow us on social media.
Investor Relations Contact: Roomy Khan
Media Contact
Company Name: Bondex
Contact Person: Roomy Khan
Phone: 805-724-7938
Country: United States
Website: https://www.bondex.app