Truly Free's Bathroom Cleaner: Non-Toxic Lemon-based Citric Acid Formula

July 8th, 2020 – Having a Toxic-free environment in our homes is something everyone wants, it's essential to start by examining the products and ingredients we use in our everyday lives. Starting with what products we purchase and bring home, like the chemicals used to clean bathtubs, sinks, and even countertops we come in contact with. Most bathroom cleaners contain fragrance, formaldehyde, triclosan, bleach, and many other dangerous chemicals. Not only are we at risk of breathing these chemicals in, but they can also be absorbed through the skin and into the bloodstream.
When so many people in a household use the bathroom (including children), there's no reason to invite harsh chemicals into the environment in the first place. Truly Free has developed a bathroom cleaner that keeps consumers safe in their own homes, by reducing the damaging chemicals they are exposed to. Created with non-toxic ingredients and eco-chemistry, consumers get effective but gentle cleaning for surfaces, making it easier for users to protect themselves in one of their most vulnerable places in the house.
To further encourage consumers to buy the Truly Free product, the company expresses that they've staffed 30 people who recently were laid off to create these products and get them to customers. Plus, the bottle it comes in is refillable and made of recyclable plastic, using a sprayer that has a lifetime warranty for continued use. After the user makes their initial purchase with the full bottle, they can just buy refills afterward.
This Non-Toxic Bathroom Cleaner by Truly Free offers plant-based chemistry and natural solutions to disinfecting and washing surfaces without further exposure to harsh chemicals. The company uses recyclable plastic to make reusable containers that can be refilled, rather than selling every new supply in a brand new container, to reduce the amount of plastic waste on the earth.
Truly Free plans to live up to their slogan "Stop Bathing In Toxic Chemicals… and Say Hello to a Sparkling Clean Bathroom" by using Revolutionary eco-chemistry and ingredients we can trust.
What Makes This Bathroom Cleaner Effective? Instead of using chemicals like bleach or even formaldehyde, the reason that this cleaner still works is with natural citric acid from lemons. Citric acid has been used in cleaning products as one of the many ingredients for years since it can help kill off bacteria, mold, and mildew. The natural composition of this acid makes it possible to break down significant stains and buildup, removing soap scum, hard water, calcium, lime, and rust.
Citric acid has a low toxicity level, and it is more readily available than some other cleaning agents. It is commonly found in other cleaning products, but it can stand alone as an active ingredient for cleaning in the home.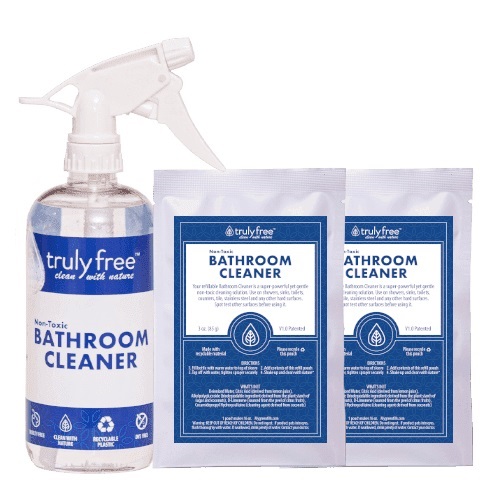 Many consumers were without access to the cleaners that they need to avoid the spread of illness, in the last few months. However, Truly Free's Bathroom Cleaner is not available in stores to stockpile anyway. Instead, users can purchase it online for $14.00, giving them a bottle with two refills.
The company also offers: Four refills for $19.00, Eight refills for $24.00. While the most value package comes with free shipping, customers will have to pay $4.95 to ship the other two packages.
A Rundown of the Bathroom Cleaner by Truly Free. Do users need a subscription to order this bathroom cleaner? No. While the offer to get this product is only available for a limited time, consumers can buy it as a one-time transaction instead of committing to monthly shipments.
How long will it take for orders to ship? Consumers won't have to wait long, the company is committed to sending out products within two to three business days. However, the only reason that this product is taking those few days to send out has to do with the many orders being placed.
Does the bathroom cleaner have any particular scent? While there is a slight citrusy fragrance to the cleaner, it is not overpowering like the toxic products on the market today offer. The scent comes from the concentrated citric acid of the lemons.
Is the bathroom cleaner able to eliminate and neutralize germs? As useful as the product is, the company makes no claims that it is effective in the killing of germs and bacteria. By law, the EPA requires that 99.999% of pathogens must be destroyed within five to 10 minutes of use to be considered a disinfectant. Citric acid, while useful, isn't quite strong enough to use as a standalone ingredient in commercial settings. Special Offer – Click Here to Get Truly Free Bathroom Cleaner with an Exclusive Discount Price Online
Is Truly Free Worth it? Truly Free's Bathroom Cleaner offers an eco-friendly alternative to cleaning a bathroom. While citric acid may be highly effective in sanitizing surfaces, the company legally cannot claim that it kills germs. Still, for individuals that prefer a natural cleaning product instead of a toxic one, the product is helpful. There's no waste with the reusable plastic bottle, which is a plus for everyone.
Truly Free's Bathroom Cleaner
Click here to order from the Official Website – https://www.mygreenfills.com

Media Contact
Company Name: Marketing By Kevin
Contact Person: Kevin Mahoney
Phone: 7082471324
Country: United States
Website: https://marketingbykevin.com