EZSipper Stainless Steel Reusable Straw Fights Against Plastic Pollution

July 8th, 2020 – The world has a big problem with pollution as a result of plastic. Luckily, societies have picked up on this problem, and many places and companies have joined the fight against plastic pollution with the ban of single-use straws. Even though this decision is a rather bold move for a generation used to disposable plates, cups, and more, consumers seem to be gravitating towards it.
Most of the focus on these single-serve items is about being sanitary since these products don't have the risk of being touched by multiple mouths and fingers. However, straws have become a saving grace for individuals with sensitive teeth that would otherwise struggle even to have a drink. EZSipper offers a unique solution.
EZSipper is a set of stainless steel straws that creates no plastic waste and can be easily clean between uses with the included cleaning tool. Stainless steel has antibacterial properties, protecting the user from becoming sick from the potential growth of germs. By switching to this solid stainless steel reusable straw, we can help save the planet one sip at a time by avoiding the use of plastic straws.
Rather than doing away entirely with the use of straws, EZSipper uses stainless steel to offer a straw that can be easily cleaned and is resistant to germs. Instead of using a new straw for every drink at home or a restaurant, users can bring the EZSipper along in its included case. Plus, to make sure that no beverage is too hot or too cold for the user's lips, it offers a silicone mouthpiece that can provide a buffer for the temperatures.
Why Stainless Steel? Stainless steel offers antibacterial benefits, which is why this material is so prevalent through commercial kitchens and even laboratory settings. This material is incredibly easy to clean, allowing consumers to wash it off between uses without the worry that it will collect more germs while it is not being used. The kit features a pipe cleaner brush, scrubbing down the inside to remove any residue left behind from any drink. Users can wash the straw when they are home, or they can quickly rinse it in a bathroom wherever they go.
Along with health benefits, stainless steel won't break apart, wear out, or rust, giving it a distinct advantage over glass, plastic, paper, or even other metal straws. Plus, the BPA-free material is much safer for consumers to drink from.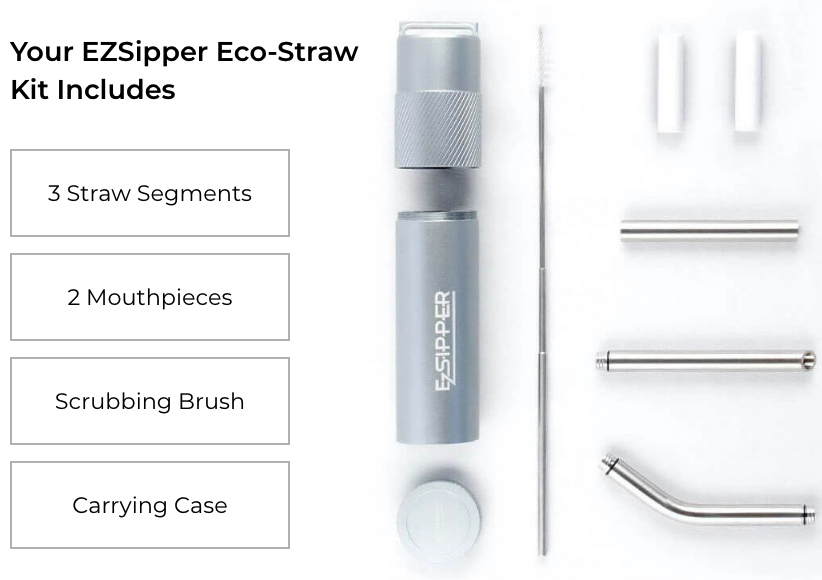 To get the eco-straw package, consumers are presently able to purchase with a 50% discount. There are four options available, each with a different number of EZSippers. Users that want to get the lowest price for each straw may want to get one of the bigger packages. Choose from: One EZSipper set for $29.99 + Shipping & Handling, Two EZSipper sets for $54.99 + Shipping & Handling, Three EZSipper sets for $74.99 + Shipping & Handling, Four EZSipper sets for $95.99 + Shipping & Handling
The EZSipper set makes it possible to use a straw in any drink, but without creating more plastic waste to end up in a landfill. The cost of the straw is a little high when compared to the price of a regular straw. Still, it can be justified with the inclusion of a case and pipe cleaner in every package, along with using stainless steel construction and the ability to handle multiple times. The straw doesn't have to be inconspicuous because metal straws are making significant headway in the eco-friendly market today. Still, it comes with a carrying case to store the straw, mouthpiece, and cleaner tool in a purse or pocket safely.
EZSipper
Click here to order from the Official Website – https://www.buyezsipper.com

Media Contact
Company Name: Marketing By Kevin
Contact Person: Kevin Mahoney
Phone: 7082471324
Country: United States
Website: https://marketingbykevin.com