Arts and Crafts Promotes Relaxation and Creativity In Children

Research Suggests Art Therapy Could Aid In Brain Development During Childhood
April 9th, 2020 – Merrick, NY – The CDC has recently published new guidelines on how to manage stress brought on by the recent corona virus crisis. The new guidelines ask Americans to " make time to unwind. Try to do some other activities you enjoy." Due to social distancing measures across the globe, families are staying home for an indefinite period. Many parents are concerned with how to occupy all the extra free time, for themselves and their children.
The George Town Behavioral Health Institute has stated that art therapy is a great tool for helping children's cognitive, emotional, and physical development. Art therapy has been shown to sharpen kids' imagination, calms their minds, and positively impacts their own perception of their surroundings and emotional state. In addition, art therapy has been shown to improve children's motor skills, dexterity control, hand-eye coordination, and muscle development.
Due to quarantine protocols temporarily closing arts and craft stores, access to art supplies has become limited. Colortime Crafts and Markers™ products are still available for any family at-home coloring project. Since 1990, Colortime Crafts and Markers™ has supplied millions of children and adults with fun and creative fabric art projects that kids and their parents can enjoy in these troubling times. Customers can order shirts, bags, pillowcases, and fabric markers and have them delivered to their homes. All screened printed coloring items are age and gender appropriate. Colortime markers are specially designed to dry naturally without the hassle of having to iron the color in. All products can be ordered through colortime.com. Colortime Crafts and Markers ™ can be a unique way to relax, have fun with family, and create a cherished memento everyone can show off once social distancing ends.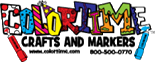 Media Contact
Company Name: Colortime Crafts and Markers
Contact Person: Frank Grunseich
Phone: 800-500-0770
City: Merrick
State: NY
Country: United States
Website: https://www.colortime.com/