PyroFarms Launches New Bioluminescent Ball – The Bio-Orb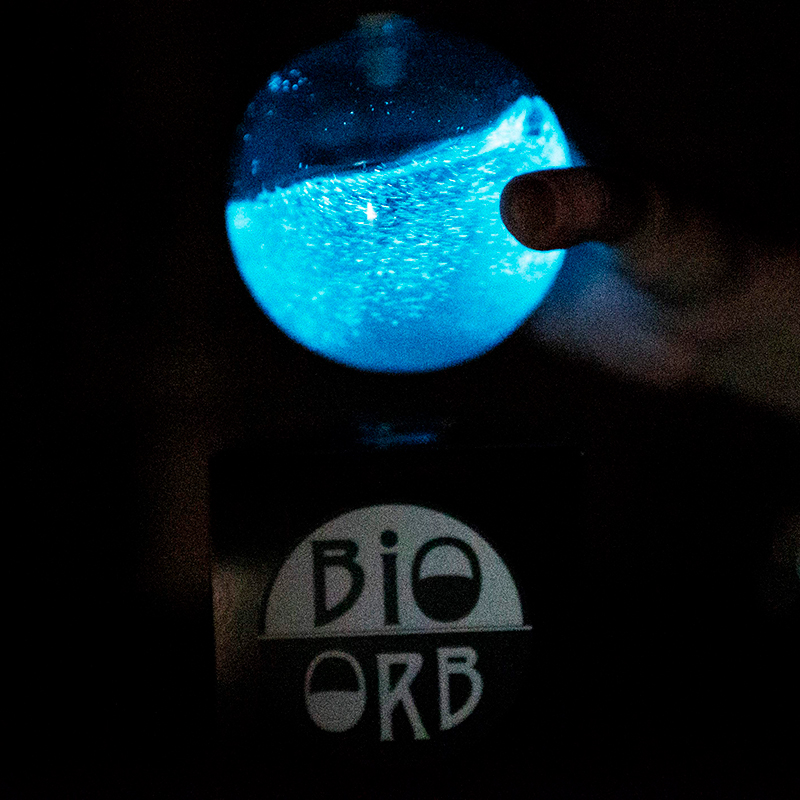 CARLSBAD, CA, February 28, 2019 –Living light from natural ocean plankton power the Bio-Orb. PyroFarms.com, a leader in the nascent consumer biotech industry, has launched a living lighted sphere called the Bio-Orb. The Bio-Orb is designed to produce a natural blue light at night when swirled or shaken.
"There are tens of thousands tiny dinoflagellate cells which power the 'Orb' by absorbing light during the day and producing a blue light at night. The natural blue light is called 'bioluminescence'." said Dean Sauer, CSO of PyroFarms. These marine dinoflagellates are found in oceans all over the world and are responsible for spectacular glowing blue waves and tides.
The Bio-Orb is the first step to a more robust and continuous 'Bio-Light' which is currently under development at PyroFarms. The Bio-Orb is a night light, conversation piece, teaching tool, glowing pet and living art all-in-one. The Bio-Orb also produces fresh oxygen (via photosynthesis) while removing the greenhouse gas (CO2) from the environment. CO2 is the compound causing climate change.
The Bio-Orb can be purchased at PyroFarms.com and PyroFarms' online partners.
About Us
PyroFarms is a company based in Carlsbad, California founded in 2018. PyroFarms cultivates and sells bioluminescent algae (dinoflagellates) for fun and educational purposes. PyroFarms is developing a clean-tech Bio-Light that can be recharged daily by the sun for natural light, night after night.
PR Company Or Contact Name
Dean Sauer
Your PR Contact Email
dean@pyrofarms.com