Paranormal Psychic Show with Kimberly Dawn On KFNX 1100 AM (Phoenix, AZ) Weekly on Saturdays Begins March 9th at 6 pm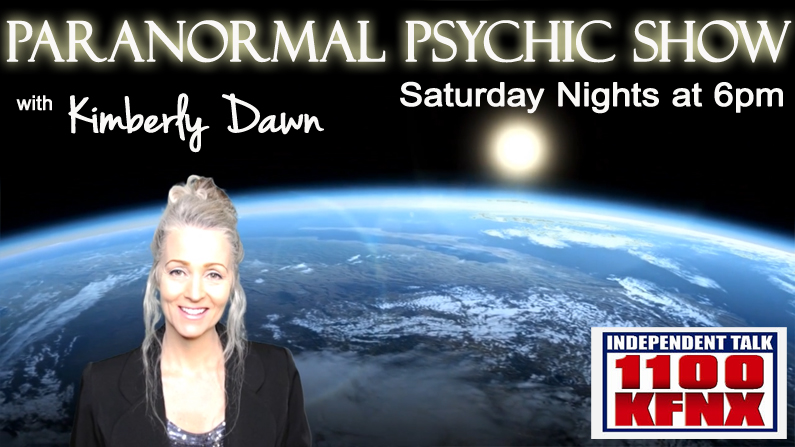 PHOENIX, AZ, February 28th, 2019 – It's not uncommon that many are finding it hard to deal with all the negative energy out there in the world.
Join Kimberly Dawn each Saturday night at 6 pm as she gives psychic readings to listeners who are experiencing negative energy or paranormal activity.
The Paranormal Psychic Show is aired live on KFNX 1100 AM in Phoenix reaching almost 5 million people throughout Arizona from Sedona to Tucson, and Yuma to Globe, plus worldwide on iTunes.
Paranormal Psychic Show host, Kimberly Dawn, says, "The number one issue my clients complain about is energetically feeling bombarded by the negative energy that's around them, whether related to negative energy from other people, spirits or dark energy they can't explain."
On the show Kimberly gives psychic readings to listeners, answering their questions about why they are being drained by the negative energy around them.
The Paranormal Psychic Show helps callers identify the paranormal activity that they are experiencing and how to have spiritual protection so spirit attachments or dark entities are unable to cause harm to them or their loved ones.
Radio personality, Art Bell has been quoted saying, "But I do believe in the paranormal, that there are things our brains just can't understand."
Callers of the Paranormal Psychic Show ask questions about spiritual cleansing, chakra cleansing, house blessings, house cleansing, removing negative energy, energy cleansing, spirit attachments, spell removal, clearing negative energy, spiritual protection prayers, entity removal, and ghost clearings.
Each case is uniquely fascinating making the Paranormal Psychic Show a riveting journey of higher awareness and what the dark does not want humanity to know.
ArchangelsBless.com is the producer of the Paranormal Psychic Show, which offers spiritual cleansing and spiritual protection services and products.
To learn more about the Paranormal Psychic Show or to schedule an interview with Kimberly Dawn email support@archangelsbless.com. To receive a free psychic reading on the Paranormal Psychic Show, leave a voice message at 928-362-0359.
9 Archangel Michael Prayers of Protection can be downloaded (for free) at https://archangelsbless.com.