Producer Andre K. Jefferson Announces Premiere For His Latest Film "Brother's Keeper"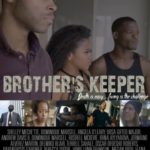 LOS ANGELES, CA, February 27, 2019 –  WHAT: Producer Andre K. Jefferson a filmmaker from Los Angeles is honored to announce the premiere of his dramatic film "Brother's Keeper" with an intimate VIP reception, cocktail hour, red carpet, Q & A highlighting the cast, and after party. "Brother's Keeper" is about two adopted brothers who battle different mental illnesses, accidentally commit murders and in the process of hiding their crimes, they find their true identity. The independently produced film is a story of power, control, love and hate, sometimes the only options become deadly.
Watch the official trailer on YouTube: https://www.youtube.com/watch?v=LaWuRNvg-Xc
WHO: Directed and Produced by Andre K. Jefferson; starring actors Irina Aylyarova, Delmiko Blair, Andrew Davis II "AD2", Jamie Franklin, Parenthysis E. Gardner, Bree K. Jones, Janine Lancaster, Ursa Major, Dominique Marsell, Roshell McKevie, Shelley Meche'tte, Angela O'Leary, Oscar "Ofoesho" Roberts, Terrell Sahale, and Quentari Walker. The following companies have signed on as the film premiere sponsors: Carol Spears (Keller Williams Realty South Bay), Dre'lentless Productions, and Sucre Couture.
WHEN: Friday, March 29, 2019
<p">5:00 pm – 5:45 pm: Media Check-in
6:00 pm – 7:00 pm: Red Carpet Arrivals and Happy Hour with Poetry Performance
7:30 pm – 9:00 pm: Film Screening
<p">9:00 pm – 9:30 pm: Q&A with the Producer and Cast
9:45 am – 11:30 pm: After Party & Meet and Greet with live performances from artists on the Brother's Keeper soundtrack
WHERE:
YES Studio
932 S. San Pedro Street
Los Angeles, CA. 90015
General Admission Screening is FREE. VIP Reception/Cocktail Hour & Screening is $7.00 online and $10.00 at the door.
Tickets available online at Event Brite:
<p">MEDIA & TALENT RSVP TO:
<p">Deborah Griffin, Publicist
<p">Email: deborahmckj@yahoo.com
<p">Cell: (323) 839-4521
<p">Facebook: @StrictlyIndustry | Twitter: @StrctlyIndustry | Instagram: @StrictlyIndustry
---