Launching A Fashion Line Conference 2019 – Agenda & Speakers Announced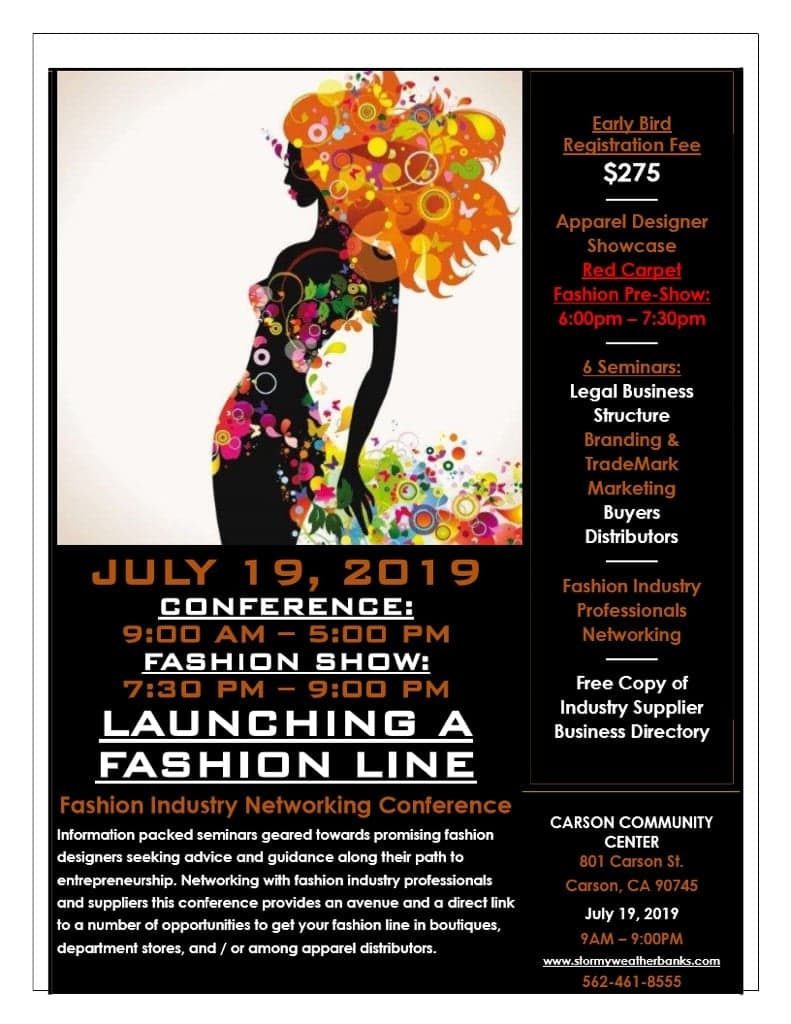 CARSON, CA, February 27, 2019 – Fashion Design Educator and Business Owner Stormyweather Banks announces her conference for entrepreneurs seeking advice and guidance from industry leaders and experts on "How to Launch A Fashion Line." Banks is a respected Los Angeles-based fashion design educator and business owner, as well as an award-winning wedding dress designer. She has been a fashion design educator at Cerritos College, Omaha Metropolitan Junior College, and Bellevue Junior College. "This conference is for all designers in fashion, jewelry, handbags, footwear, accessories, and costume design," said Banks. This year's conference will be held Friday, July 19, 2019 at the Carson Community Center (Atrium & Theatre), 801 Carson Street, Carson, CA 90745. Attendees will spend the day interacting with industry experts in business, fashion, manufacturers, suppliers, buyers, and more!
This year's expert speakers include Attorney Melissa K. Dagodag (The Law Offices of Melissa K. Dagodag), Brandon Thrasher (The Thrasher Group), Jonathon Santos (The Santos Media Group, LLC.), and TJ Walker (Cross Colours Clothing & TJ Walker Enterprises). Tickets are on sale now and can be purchased online by visiting www.StormyweatherBanks.com. Early Bird tickets available now and will run until midnight on Thursday, February 28th.
Conference Schedule includes the following:
Registration – 9:00 am to 10:00 am
Seminar 1 – 10:00 am to 10:45 am: Steps to Incorporate Your Business
How To Start An LLC
EIN/Taxes
Accounting Business Banking
License & Permits
Insurance
Seminar 2 – 11:00 am to 11:45 am: Legal & Registered Trademark
What Is A Trademark
How To Register A Trademark For A Company Name Or Phrase
LUNCH – 12:00 pm to 12:45 pm
Seminar 3 – 1:00 pm to 1:45 pm: Finding & Working with Suppliers
Finding Product
Apparel Manufacturers
Seminar 4 – 2:00 pm to 2:45 pm: Pitching Your Fashion Line to Buyers & Distributors
Clothing Selling History
Retail Ready
Line Sheet
Trade Shows
Samples
Distributors
COFFEE/TEA – 2:45 pm to 3:00 pm
Seminar 5 – 3:00 pm to 3:45 pm: Branding, Marketing, And Power of The Internet
Company Image
Identify Your Market
Know Target Audience
Website
Internet Marketing Options
Seminar 6 – 4:00 pm to 4:45 pm: Fashion Industry Success Story
Fashion Industry Success Story
Steps Taken to Start Your Business
Marketing Your Line of Clothing
DINNER BREAK – 5:00 pm to 6:00 pm
Red Carpet Fashion Pre-Show – 6:00 pm to 7:30 pm: Designers & Corporate Sponsor Interviews
Fashion Show – 7:30 pm to 9:00 pm: Aspiring Fashion Designers Clothing Line Showcase
AFTER PARTY – 9:00 pm to 10:00 pm 
To become an exhibitor or showcase your fashion line during the conference, please email sales@stormyweatherbanks.com or call (562) 461-8555.
For all media coverage requests, please contact:
Deborah Griffin, Publicist
Phone: 323.839.4521 | Fax: 323.345.6466
Email: deborahmckj(at)yahoo(dot)com
Website: http://www.strictlyindustry.com
Facebook: @StrictlyIndustry | Twitter: @StrctlyIndustry | Instagram: @StrictlyIndustry
Public Relations for individuals in TV | Film | Music | Special Events | Brands | Business