Howard to supply telehealth resources for public school students suffering effects from Hurricane Michael

November 18th, 2019 – Howard Technology Solutions, a leading manufacturer of premium kiosks, medical carts, and telehealth solutions, based in Ellisville, MS, recently installed 63 telehealth kiosks in Florida schools located in Panhandle counties still suffering after-effects from Hurricane Michael.
As a part of the "Hope for Healing" initiative spearheaded by Florida First Lady, Casey DeSantis, telehealth kiosks were installed in every public school in Bay, Calhoun, Gulf, Franklin and Liberty counties before the 2019-20 school year.
The kiosks will be used to provide students with access to mental health providers via insurance, Medicaid and Medicare and grants available through Big Bend Community Based Care (BBCBC). The idea behind this project, according to the First Lady, is that healing the invisible wounds and trauma caused by the storm is just as important as rebuilding the physical damage it caused.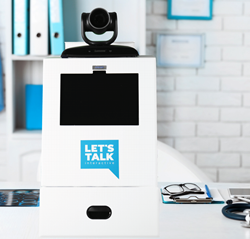 Howard Technology Solutions partnered with Let's Talk Interactive, Inc. to customize these telehealth kiosks to provide access to psychiatrists and other mental health providers through their online platform.
According to Art Cooksey, Founder & CEO of Let's Talk Interactive, Inc, "Hurricane Michael devastated the region, and people are still suffering. Teens and children are affected by PTSD (Post-Traumatic Stress Disorder) and depression, leading to a high level of suicide in this area. Additionally, there is a shortage of providers in this area, so the situation is critical.
These customized telemental-health portals will ensure that each of the more than 35,000 students in the affected areas will have individual access to professional counseling and mental health services, accelerating the recovery process.
The First Lady talked about it recently at a news conference, "It's an innovative technology where students can participate in a video-conferencing session — think of it as face-time with a mental health provider."
"Parents will be able to call into the session from work, home, or wherever is convenient, while the student is in school to maximize the time they have to devote to this, because we understand that parents are busy. If parents cannot be a part of the discussion, the physician will offer them a summary after it is over. And one of the most important things to note is that this is 100 percent HIPAA compliant, because privacy is most important."
According to Howard Vice-President of Technology Sales, David Perkins, "Telehealth provides interactive healthcare options to many who might otherwise have to forego treatment. Creating school telehealth and telemental-health programs not only ensures that students get the help they need, but it also reduces absenteeism and saves healthcare dollars in the process. More and more schools are recognizing the benefits of having telehealth programs, so we are delighted to be involved in this project."
For more information about Howard Technology Solutions' education offerings or telehealth offerings visit www.howardcomputers.com.
About Howard Technology Solutions:
Howard Technology Solutions brings to market cutting-edge technology that is high quality, reliable, and affordable. From our own Howard manufactured products, such as desktops, notebooks, servers, kiosks, and medical carts to partner products from other leading technology innovators, such as Lenovo, HP, and Microsoft, you can be sure when you buy from Howard that you are getting the most for your technology dollars. Howard Technology Solutions' mission is to provide an affordable, top-quality product that exceeds your expectations, and our highly trained team of network professionals can provide you with installation, procurement, consulting and many other services to meet your needs.
About Let's Talk Interactive, Inc.:
Let's Talk Interactive, Inc. is a complete end-to-end Telehealth solutions provider, arming medical and behavioral health professionals with cutting-edge Health Insurance Portability Accountability Act (HIPAA) video conferencing software, kiosks and medical carts, network solutions, virtual clinics, and safe and secure online video conferencing capabilities while giving those in need instant access to care through its innovative technology platform. The company's telemedicine solutions enable providers to offer care at any time, from any location in the world and patients to directly connect to a licensed medical professional in real time.
Link to web version of article: https://www.howardcomputers.com/Info/news/2019/09/05/howard_to_supply_telehealth_resources_for_public_school_students.cfm
Media Contact
Company: Howard Technology Solutions
Contact: Karly Mccoy
Phone: 6014989404
Country: United States
Website: https://www.howardcomputers.com/Info/news/2019/09/05/howard_to_supply_telehealth_resources_for_public_school_students.cfm