Award-winning Texas Author JoAnn Wagner Having a Book-Signing of Her Latest Book at Mel's Diner in Pigeon Forge, Tennessee – Tuesday 3/5/2019

MESQUITE, TX, March 5, 2019 – JoAnn Wagner, award-winning author of the celebrated Sir Pigglesworth Adventure Series, will be at Mel's Diner, located at 119 Wears Valley Rd, Pigeon Forge, TN, on Tuesday, March 5, 2019 from 2 to 4 pm. She will be talking to customers and signing copies of her latest book in the series, Book 8 – Sir Pigglesworth's Adventures in Pigeon Forge.
Sir Pigglesworth was invited by Dolly herself to participate in the finale of her show at the Dolly Parton Stampede Dinner Attraction® and while in Pigeon Forge, he makes a stop at the famous Mel's Diner where he discovers Mel's ultimate 6-scoop banana split. Being a mischievous little piglet, he dives snout first into a little girl's banana split. Come to JoAnn's book signing to find out what other mischief our little pink hoofed friend gets into!
JoAnn Wagner says "You will have a 'pigalicous' time reading this fun book!"
Sir Pigglesworth's Adventures in Pigeon Forge
(Sir Pigglesworth Publishing, 2018, ISBN 978-1-68055-093-1, $8.95, www.sirpigglesworth.com)
JoAnn Wagner is the award-winning author of the Sir Pigglesworth Adventure Series. So far, there are 8 books in the series with more to come. JoAnn offers book readings at schools, libraries and churches, and does book signings at local bookstores and even on cruise ships! Her series is targeted to children ages 6-9. JoAnn's books have won First Place awards for Illustrated Children's Chapter Books in 2016, 2017 and 2018. The complete series is now also available in Spanish.
Go to www.sirpigglesworth.com where you can see the books. There is also a 40 page coloring book to download for your kids. It includes 5 pages from each of the books in the series.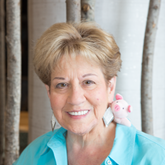 Her author website is www.JoannWagner.com