Medical holography Market Global Industry Analysis, Economic Conditions, Mergers, Developments And Forecast Analysis 2019-2030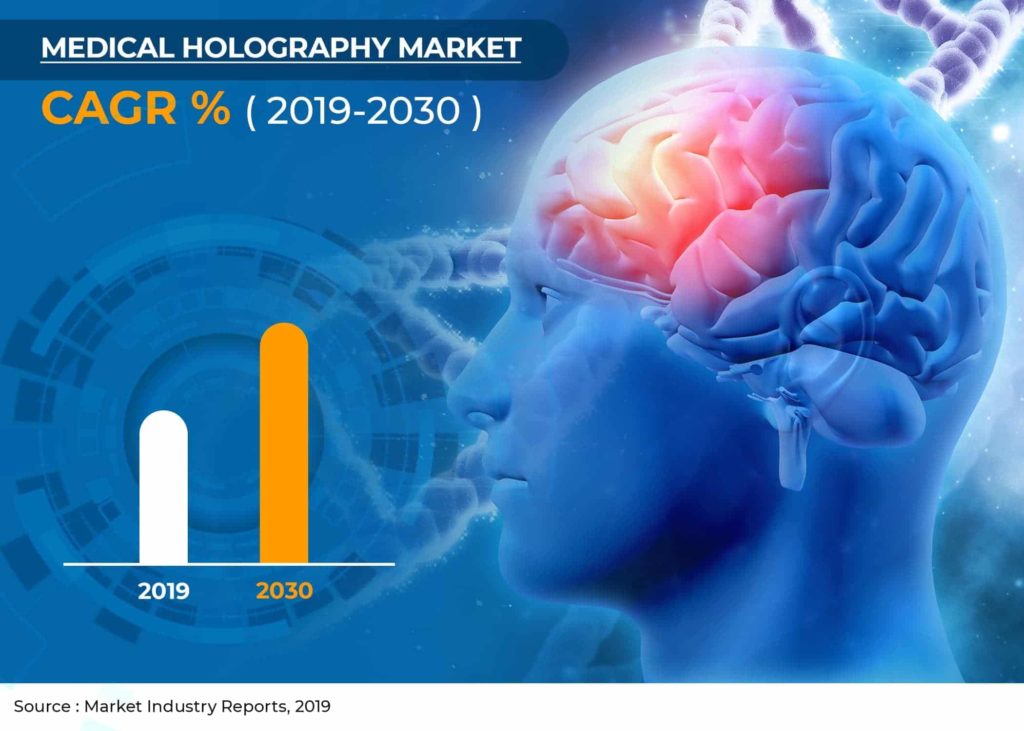 New York, NY, February 15th, 2019 –(PRWirePro.com)– Market Industry Reports (MIR) has published a new report titled "Medical Holography Market – Global Industry Analysis, Size, Share, Growth, Trends, and Forecast, 2019–2030." According to the report, the global medical holography market is estimated to be over US$ 200.0 Mn in 2017. It is anticipated to grow at a double digit CAGR from 2019 to 2030.
Request for Free PDF Sample Report @ https://www.marketindustryreports.com/pdf/14
Major Players in the Medical Holography Market
The prominent players in the global medical holography market are RealView Imaging Ltd., Mach7 Technologies Ltd., Holoxica Ltd., Ovizio Imaging Systems, ZSpace, Inc., Lyncée Tec SA, Zebra Imaging, EchoPixel, Inc., and Holografika Kft among others.
Increasing Demand for Medical Imaging Devices
The need for medical imaging systems to obtain a better understanding of the human anatomy, and therefore deduce a better treatment approach for the concerned ailment, has been a major driving factor contributing to the growth of the global medical holography market. The complex anatomy of various organs or body parts demands for imaging systems to be precise and extremely accurate. Similarly, wide scale application of medical holography in radiological & surgical procedures, orthopedics, dentistry, and cardiac electrophysiology, makes the entire use of such systems highly crucial.
Browse key industry insights spread across 150 pages with market data tables & figures & charts from the report, Medical Holography Market by Type (Holographic Prints, Holographic Microscopy, Holography Software, Holographic Display), Application (Medical Imaging, Medical Education, Biomedical Research) End Users (Hospitals & Clinics, Medical Institutes, Academic Centers) – Global Analysis & Forecast 2019-2030
Read More..
http://www.sbwire.com/press-releases/medical-holography-market-industry-report-by-2030-top-players-ovizio-imaging-systems-zspace-inc-lynce-tec-sa-zebra-imaging-realview-imaging-ltd-1144249.htm
Table of Contents
1 INTRODUCTION
1.1 Research Methodology
1.2 Market Definition
1.3 Market Ecosystem
1.3.1 Market Classification
1.3.2 Geographic Scope
1.3.3 Years Considered for the Study
1.3.3.1 Historical Years – 2016 & 2017
1.3.3.2 Base Year – 2018
1.3.3.3 Forecasted Years – 2019 to 2030
1.4 Currency Used for the Study
1.5 Report Beneficiary List
2 RESEARCH METHODOLGY
2.1 Research Framework
2.2 Data Collection Technique
2.3 Data Sources
2.3.1 Secondary Sources
2.3.2 Primary Sources
2.4 Market Estimation Methodology
2.4.1 Bottoms Up Approach
2.4.2 Top Down Approach
2.5 Data Validation and Triangulation
2.5.1 Market Forecasting Model
2.5.2 Limitation of the Study
2.5.3 Assumption of the Study
Continue…
The global medical holography market is segmented by type, application, end user and region. The type segment can be further classified into various categories such as Holographic prints, Holographic Microscopy, Holography software and Holographic display. The Holographic Display segments accounts for the largest share in the following segment. The application category can be further categorized into various segments such as Medical Imaging, Medical Education and Biomedical Research. The Medical Imaging segment accounts for the largest share in the market due to various factors such as growing demands for the Holographic products and increase in rise for Biomedical Education. The End-User segment can be further categorized into segments such as Hospitals and Clinics, Medical Institutes and Academic Centers. The Hospital segment accounts for the largest share in the category due to various factors such as growing number of surgeries and rise in the need for holography Market.
In terms of geography, the Global Medical Holography Market is categorized to the regions of North America, Europe, Asia-Pacific and the Rest of the World (RoW).North America accounts for the largest share in the current Holography Market owing to its availability of the technology easily and rising focus of medical and hospital institutes on the educational aspects of medical holography. However the Asia-Pacific regions are expected to have the highest growth of CAGR especially centered in the regions of Japan, China and India. Various factors contributing to this cause are booming healthcare industry and initiative market players to promote medical holography.
Direct Order Medical holography Market https://www.marketindustryreports.com
About Us
Market Industry Reports is a global leader in market measurement & advisory services, Market Industry Reports is at the forefront of innovation to address the worldwide industry trends and opportunities. We identified the caliber of market dynamics & hence we excel in the areas of innovation and optimization, integrity, curiosity, customer and brand experience, and strategic business intelligence through our research.
We offer our clients a unique depth of market intelligence in an actionable format to move their business forward. Our analysis incorporates the consumer study in more than 100 countries that provide a tactical approach to drive the sustained growth for the business. We continue to pioneer state-of-the-art approach in research & analysis that makes complex world simpler to stay ahead of the curve. By nurturing the perception of genius and optimized market intelligence we bring proficient contingency to our clients in the evolving world of technologies, megatrends and industry convergence. We empower and inspire Vanguards to fuel and shape their business to build and grow world-class consumer products.
Contact Us
502, Sai Radhe, Kennedy Road,
Behind Hotel Sheraton Grand,
Near Pune Station, Pune 411 001,Maharashtra, India
Email: sales@marketindustryreports.com
Phone: + 91 8956 767 535
Website: https://www.marketindustryreports.com/